17/06
The Language
of Creative Practice Research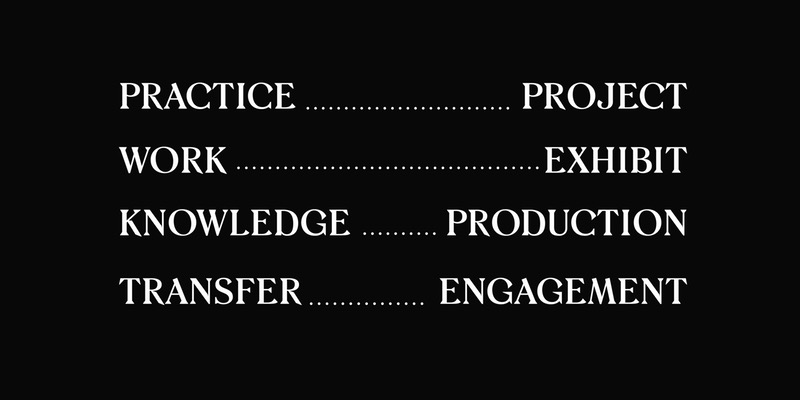 The Language of Creative Practice Research was the first of a series of DAP_r events around Australia.
The event explored the multiplicity and diversity of models of practice research, and the various language employed across different models. Through pairs of keywords, the symposium unpacked and debated the language of practice research. Panels of speakers addressed keywords in short position papers, setting up a dynamic where different questions and positions could emerge and be debated. Each panel brought together a range of stakeholders involved in current research on communication design, interior design, curating and architecture.
Three dominant views emerged through papers and discussions:
The need to educate institutions about practice research in design;
The need to find language that explains the value of design research;
That practice research in design can be taken for granted given its long history.
Held on 5 June at Customs House Sydney, the event was coordinated by partners from University of Technology Sydney, in conjunction with partners from the University of New South Wales, the University of Canberra, and the University of Tasmania. The event featured 19 speakers, including seven DAP_r partners.



PROGRAM
Framing
Laurene Vaughan & Charles Rice
Practice | Project
Andrew Leach, Suzie Attiwill, Jacqueline Lorber-Kasunic & Kate Sweetapple with Chair Katherine Moline
What is the subject of practice research? Is it practice itself, the accumulation of processes, approaches and ways of working which over time generate the particularity of a practice? Or is it the things a practice works on, the projects within which the methods and techniques of practice are deployed? While projects might be said to be external, the palpable results or outputs of a practice, practice itself is not so easily accessed.
Work | Exhibit
David Macarthur, Jen Webb & Geoff Hinchcliff with Chair Ursa Komac
What are the outcomes of practice research? Is the exhibit the thing, or is that simply a format for making public the work of a practice? With the increasing focus on the specification of research outputs, the difference between works and exhibits is important for understanding, among other things, where the outcomes of practice research reside, and the ways in which authorship and new knowledge can be defined.
Knowledge | Production
Jane Burry, Katrina Simon & Thea Brejzek with Chair Judith O'Callaghan
The production of new knowledge is at the core of the research endeavour, however production can have a very specific meaning with respect to practices of design and architecture. It may even be antithetical to research, production often being seen as instrumental, the opposite of unencumbered speculations. Equally, its designation as an 'end-point' is often only provisional, and can be a driver of further speculation.
Transfer | Engagement
Cameron Tonkinwise, Lizzie Muller & Tim Schork with Chair Charles Rice
Increasingly knowledge transfer and engagement beyond the boundaries of academia are becoming the raisons d'être of research. What is thought to be transferred beyond these supposed boundaries? Given practices of design and architecture, as practices, are inherently engaged, what is the direction of transfer?
Roundtable
Katherine Moline, Ursa Komac, Judith O'Callaghan, Charles Rice & Dennis Del Favero with Chair Stephen Loo
Reflections on the day's events, followed by a discussion on the evaluation of practice research within universities, and the structures of research funding in Australia.
SPEAKERS
SUZIE ATTIWILL is Associate Professor, Interior Design and Deputy Dean, Learning and Teaching, School of Architecture and Design, RMIT University. Her creative practice research experiments with concepts of interior and interiority in relation to contemporary conditions of living, inhabitation, subjectivity and pedagogy through a practice of designing with a curatorial inflection. She completed a PhD by practice/project at RMIT in 2012 and supervises PhD candidates across a diversity of creative practices including interior design, dance, painting, gold and silversmithing, sculpture and architecture.
THEA BREJZEK is Professor for Spatial Theory in the School of Design at the University of Technology Sydney. Thea publishes and lectures widely on the history and theory of scenography and performative environments with a particular interest in transdisciplinary practices and the politics of space in performance. Thea is a member of the scientific advisory board of the Bauhaus Foundation Dessau and Associate Editor of the Routledge Journal, Theatre and Performance Design.
JANE BURRY is Professor and Dean of the School of Design at Swinburne University of Technology. She has practised, taught and undertaken research internationally. Her work has included involvement as a project architect in the technical office at Antoni Gaudí's Sagrada Família church in Barcelona. Her research focuses on mathematics in contemporary design. With over 90 publications to her name, Jane is lead author of The New Mathematics of Architecture (2010), and co-author, with Mark Burry, of Prototyping for Architects (2016).
DENNIS DEL FAVERO is Scientia Professor, Chair Professor of Digital Innovation, Associate Dean Research and Enterprise, Director of the iCinema Centre for Interactive Cinema Research and Deputy Director of the National Institute of Experimental Arts (NIEA) at UNSW Art & Design. He is also an ARC Australian Professorial Fellow at UNSW Art & Design and UNSW Engineering, and holds prestigious visiting professorships at a variety of international universities. Dennis is engaged in interdisciplinary art and science research projects that use digital media to aesthetically explore the dynamic relationship between human and non-human systems through the experimental reformulation of animal, atmospheric and landscape imaging.
GEOFF HINCHCLIFFE is Senior Lecturer in Design in the School of Art & Design at the Australian National University. His research and production focuses on new forms and practices in data visualisation, computational design, and interaction design. This research results in both theoretical and creative outputs, from the highly practical, to the experimental, playful and occasionally provocative. Current research themes include: representing cultural collections, dynamic design, poetics and materiality, and speculative & undisciplined design.
URSA KOMAC is Assistant Professor of Architecture in the Faculty of Arts and Design at the University of Canberra. She holds a PhD from Universitat Politecnica de Catalunya, Barcelona, and was awarded the Arquitesis Award for her PhD on public space. She has taught history of architecture and design at UPC Barcelona, Boston Architectural College, the University of Sydney and the University of New South Wales. She received the Piranesi Award for The Rest Areas for the Bicycle Paths in the Slovene Karst. Her Observation Points in Skocjanski Zatok were selected for the 9th International Biennial of Landscape Architecture and were nominated for the Mies van der Rohe Award in 2017.
ANDREW LEACH is Professor of Architecture at the University of Sydney. Among his books are Manfredo Tafuri (2007), What is Architectural History? (2010) and Rome (2017), and edited volumes on The Baroque in Architectural Culture (2015, with Maarten Delbeke and John Macarthur) and On Discomfort (2017, with David Ellison). His current work concerns the architectural history of the Gold Coast, the historiography of architectural mannerism, and the colonial 'Tasman world'.
STEPHEN LOO is Professor of Architecture and Director of the Creative Exchange Institute (CxI) at the University of Tasmania. CxI is focused on uncovering the benefits of interdisciplinary research, radically putting disciplines together to create unanticipated synergies. His own field of research spans multiple disciplines in both humanities and science, including architecture, ethical philosophy, performance, computing, design and entomology. Stephen is co-editor of Poetic Biopolitics: Practices of Relation in Architecture and the Arts (2016) and Deleuze and Architecture (2013).
JACQUELINE LORBER-KASUNIC is the Associate Head of Design and KATE SWEETAPPLE is the Associate Dean, Teaching and Learning, in the Faculty of Design Architecture and Building at the University of Technology Sydney. Their research focuses on experimental information visualisation, an area they refer to as 'data poetics'. They are interested in understanding how design practice can create new ways to engage with and interpret digitised cultural collections and archives.
DAVID MACARTHUR is an Associate Professor in the Philosophy Department at the University of Sydney. He works at the interface of contemporary pragmatism, Wittgenstein's philosophy of language and psychology and the philosophy of art. In addition to these topics, he has published articles in leading philosophy journals and books on liberal naturalism, metaphysical quietism, skepticism, common sense, perception, ordinary language, philosophy of architecture, and philosophy of photography and film.
KATHERINE MOLINE is a Senior Lecturer in research practices and Postgraduate Coordinator: Admissions for Masters by Research and PhDs at UNSW Art & Design. Katherine explores the cross-overs between avant-gardism in visual art and the social pacts of contemporary experimental design. Recent exhibitions she has curated include Feral Experimental at UNSW Galleries (2014), Experimental Practice: Provocations in and out of Design at RMIT Design Hub (2015), Experimental Thinking: Design Practices at Griffith University Gallery (2015), and Climactic: Post Normal Design at Carnegie Mellon University, Pittsburgh (2016).
LIZZIE MULLER is Senior Lecturer and Program Director for the Master of Curating and Cultural Leadership at UNSW Art & Design. Lizzie's research draws together curatorial practice with theories and methods from participatory design and interaction design. Her work with audience experience extends to the fields of preservation and archiving, particularly experiential documentation and oral histories of media art. In 2017 Lizzie curated (with Holly Williams) A Working Model of the World – an exhibition exploring the role of models in creating and sharing knowledge across all disciplines. The exhibition was shown at the UNSW Galleries and the Sheila C Johnson Design Centre, Parsons, The New School for Design, New York.
JUDITH O'CALLAGHAN is Senior Lecturer in Interior Architecture and Director of Postgraduate Research in the Faculty of the Built Environment at UNSW. Her research interests include Australian architecture, interior architecture and design post-1945, and cultural heritage. She is co-author, with Charles Pickett, of Designer Suburbs: Architects and Affordable Homes in Australia (2012), and co-editor of Leisure Space: The Transformation of Sydney 1945-1970 (2014) and Sydney's Martin Place: A Cultural and Design History (2016).
CHARLES RICE is Professor of Architecture and Associate Dean (Research) in the Faculty of Design, Architecture and Building at the University of Technology Sydney. He is lead organiser of The Language of Practice Research. His research considers questions of the interior in domestic and urban contexts. He is the author of The Emergence of the Interior: Architecture, Modernity, Domesticity (2007), and Interior Urbanism: Architecture, John Portman and Downtown America (2016), and is editor in chief of The Journal of Architecture, the scholarly journal of the Royal Institute of British Architects.
TIM SCHORK is a founding director of the design practice MESNE Design Studio and an Associate Professor of Architecture in the Faculty of Design, Architecture and Building at the University of Technology Sydney, where he leads a research group that pools together expertise from the fields of architecture, industrial design, interaction design, engineering, computer and material science, as well as robotics. His research is concerned with the transformative effects and contributory role that computation, materials and technology have on the practices of architecture and construction, and how these affect global concerns of society, economy, and sustainability.
KATRINA SIMON is a designer and visual artist with a background in architecture, landscape architecture and fine art. Her research interests focus on the expression of memory and its loss in landscapes, explored through a range of research methodologies that include design research, exhibitions, design competitions, archival research, experimental writing, and performance-based research. In particular, these are applied to projects on cartography and landscape representation, the history and design of cemeteries, and the impacts of earthquakes and other disasters on cites. She is currently a Senior Lecturer in Landscape Architecture at UNSW Australia.
CAMERON TONKINWISE is Professor of Design at UNSW Art & Design. He was previously Director of Design Studies and Doctoral Studies in the School of Design at Carnegie Mellon University. Cameron has a background in continental philosophy and continues to research what design practice can learn from material cultural studies and sociologies of technology. His primary area of research and teaching is Sustainable Design. Cameron is widely published on the ways in which Service Design can advance Social Sustainability by decoupling use and ownership - what these days is referred to as the 'Sharing Economy'.
LAURENE VAUGHAN is Professor in Design and Communication in the School of Media and Communication at RMIT University, and is a chief investigator for Design Architecture Practice Reseach (DAP_r). She has a diverse research and teaching practice covering the areas of design, communication, fashion and embedded research in diverse industry sectors. Within her research, Laurene endeavours to explore and comment on the interactive and situated nature of human experience, particularly the ways that we create and articulate the experience of place.
JEN WEBB is Distinguished Professor of Creative Practice at the University of Canberra, and Director of the Centre for Creative and Cultural Research. Her work focuses on representation, and the field of creative production. Her recent publications include the scholarly volumes Researching Creative Writing (2015) and Art and Human Rights: Contemporary Asian Contexts (with Caroline Turner, 2016), the creative volumes Watching the World (with Paul Hetherington. 2015) and Sentences from the Archive (2016), and the Oxford University Press bibliography entry for Bourdieu (2017). She is Chief Investigator on the ARC Discovery project 'Working the Field: Creative Graduates in Australia and China', and Lead Investigator on 'So what do you do? Graduates in the Creative and Cultural Industries'.